Finally,
Magento 2.4.5

release has been revealed. Checkout What's new here.

On 9th August 2022, Adobe has finally announced the Magento 2.4.5 version for general availability.

Adobe has been working hard as usual to make Magento better day by day, and the latest version of Magento 2 is the outcome of it. As per Adobe Commerce DevDocs officials, This latest release having over 290 quality fixes and enhancements. Apart from that, Magento 2.4.5 is more effective in terms of performance, security and platform experience.

It's been great knock in the Magento Community to see the platform thriving with amazing feature updates and enhancements. Magento store owners can now upgrade magento store with the latest version(Magento 2.4.5) for extra-ordinary eCommerce operations.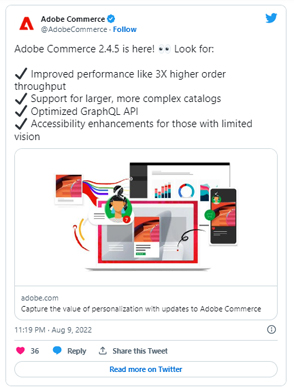 Let's Have Deep Understanding At What's New In Magento 2.4.5
Magento 2.4.5 Release :
Fixed over 290 quality issues and enhancements.
Compatible with Page Builder v.1.7.2 and PWA Studio v.12.5.x.
Improved performance – 3x higher order throughput.
Built-in Google Tag module to upgrade to Google Analytics 4.
20+ security fixes and enhancements.
Support for Composer 2.2, TinyMCE 5.10.2, and jQueryUI 1.13.1.
Apple pay is available for all merchants.
GraphQL enhancements.
Everything You Should Know About This Magento 2.4.5 Release.
There are list of new stuffs for the magento enthusiast in the latest release of Adobe Commerce. This release come with many of improvement and bug fixes. The highlights of the Magento 2.4.5 release notes are explained here briefly:
Adobe also has spent quality of time on platform enhancement for developers in this release, below are the list of platform enhancement features.
DHL integration schema updated from v6.0 to v6.2.
Twenty composer dependencies updated to the latest version.
All outdated Js libs have been updated to the latest version in Magento 2.4.5.
Support for Composer 2.2, TincMCE 5.10.2, and jQuery 1.13.1.
As per Adobe DevDocs officials, The release contains around 20 security fixes and improvements. Thus, considering it a huge release from the security perspective. Here are some of the security enhancement of this release.
Inventory template security enhancement.

TMaliciousCode

upgraded to

HTMLPurifier.

Google reCAPTCHA support to Wish List Sharing, Create New Account, and Gift Card forms.
Inventory template security enhanced.
Added the ACL resources to the inventory.
PWA Studio storefront collects the customer's behavior for web analytics services through eventing.
Store admin can deploy a service such as Google Tag Manager from the admin.
PWA Studio v.12.5.x is now fully compatible with Magento 2.4.5 release.
GraphQL API capability to consume the authorization token expiration date/time.
Session usage has been removed from the

http

header.
Faster rebuilding of unified storefront GraphQL schema on deployment.
Allows to disable the session cookies for all GraphQL operations completely.
In this addition, they have added new payment option of Apply Pay. There are also some updates in PayPal and Braintree payment methods. Below are features.
Apple Pay is now available for all merchants.
Removed Braintree KNOUNT fraud protection from the Magento 2.4.5 codebase.
'Always request 3DS' option has been added for the Braintree payments.
The PayPal Pay Later option is now available for merchants in Italy and Spain.
Store admin can now preview PayPal Credit card & Pay Later buttons in the backend.
In this release, Adobe has fixed over 100 issues that were reported in the earlier versions. Major fixes are listed below.
The cart total for a bundle product is correctly calculated when the Product Subselect rule is applied.
Fixed the DOM errors related to the address search pop-up on the billing step of the checkout workflow.
Changing the Admin URL no longer throws an exception.
Fixed issues related to Adobe Stock sign-out.
A single login is now valid for multiple store views for shoppers with global account sharing.
A Correct price for the configurable products is displayed on the product page after changing its quantity.
Issue fixes in the Admin Action Log report.
The system emails work completely fine with the email addresses containing ".-".
Fixed logo-related issues in the storefront print order/invoice/credit memo pages.
Error is displayed on the shipping page when the customer enters an invalid email.
Admin can now set the session size to 0 from the backend, which no longer logs out the admin.
The admin can now translate the title of the 'Show Password' checkbox on various pages.
Images on the product pages are now displayed perfectly without any flickering.
Fixed the functioning of the unsubscribe URL in the email newsletter.
Customer name is correctly displayed for the orders placed by guest customers with PayPal.
Filtering products by color in the layered navigation now works perfectly fine.
The table rate shipping amount is no longer calculated for the virtual products.
Lengthy names in the product grid are word-wrapped.
Magento 2.4.5 – Official Release Notes
Magento enthusiasts can find more information about the latest release of the Magento 2 release line through the official release notes. You can find the Magento 2.4.5 release notes at:
The Magento 2.4.5 release is a massive update for store owners in terms of platform performance, quality, caching, payment enhancement, and more. The latest version is better in every aspect and is worth upgrading to. You can also download Magento 2 latest version from the official resources.
Store owners, empower your store with plenty of improvements and new features by upgrading to the latest Magento 2.4.5 release. Enjoy the most secure, fastest, and an improved version of Magento 2.
Thank you for reading this post.