It Is Always Said First Impression Is The Last Impression.
Websites Graphics And Clean Images Are Always The First Impression For E-Commerce Websites.
It Is Obvious, Majority Of Users Will Decide If They Want To Locate On Website Within In Seconds Of Viewing. No Matters How Well-Written Your Content Is, Until Your Visual Elements Are Not In A Proper Way You Can Win Heart Of Your Customers. Your Customers Will Always Overlook The Images You Posted On Your E-Commerce Website.
While Making Websites We Might Make Mistakes For Placing Images On A Definite Place. This Might Be A Question For Many, Once Website Is Running Onboard, Is It Possible To Make Changes In Website Images?
Absolutely Yes! We At Aims Infosoft Has Published Another Magical Named "Image Clean" Module".
This Module Will Helps You To Remove Unused Image, That Are Consuming Space On Your Web Store And It Can Optimize You Website.
Key Features:
On Once Click You Will Get All Unused Image Files Of Products And Categories.
You Can Delete Either Single On Multiple Images On One Click By Confirming The Selection.
You Will Have Separate Option To Select Image Either For Product Images Or For Categories Images That You Have Uploaded Earlier And Deleted From Admin.
Benefits Of Using Magneto 2 =" Image Clean Module"
Module Provides Facility To Delete Images Of
Unused Products Images
Unused Category Images
It Permanently Delete Images From Your Database And Magento 2 Directories That Consume Space Optimize Magento Website. Module Compatible With
Magento Open Source 2.3.X
Magento Commerce 2.3.X
Why Magento 2 "Image Clean Module Important" ?
It Is Important To Make Website Eye Catchy For Customers. The Only Key We Can Make Website Organized And Eye Catchy By Using Creative Graphics On Relevant Position. If The Position Are Not Categorized According To The Product. Then, You Might Lose Your Customer.
We Aimsinfosoft introduced A Magento 2 Module = "Image Clean Module"
Why Use " Magneto 2 "Image Clean Module"?
What "Image Clean" Can Do ?
Image Clean Is Mainly Use To Get And Delete Unused Images Of Products And Categories From Database And Directories.
Advantage Of "Image Clean" :
Speed Up Your Magento 2 Website By Cleaning Its Storage.
How Does The Extension Work ?
Basically, When You Install The Module Into Your Magento 2 Store. There Will Be Option To Delete Images Of Products And Categories That You Uploaded Previously But Haven't Deleted From Database And Directories.
Why Our Services Stands Out From Crowd ?
We Provide Lifetime Free Upgrades.
We Keep Our Promise- 30 Days Money Back.
We Provide 90 Days Free Support.
100% Bug Free Algorithm.
Here Are The Steps How To Use Magento 2 Image Clean Module:
Step1 :
When You Install Module In Magento 2, You Will Get The Menu Named Aimsinfosoft In Left.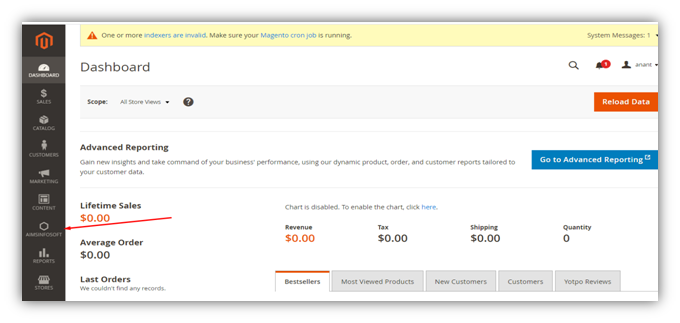 Step 2 :
Here, You Get The Option To Select For Which Do You Want To Delete Images First. Means, Delete Unused Images Of Products Or Categories That You Have Uploaded Previously And Deleted From Magento 2 Admin.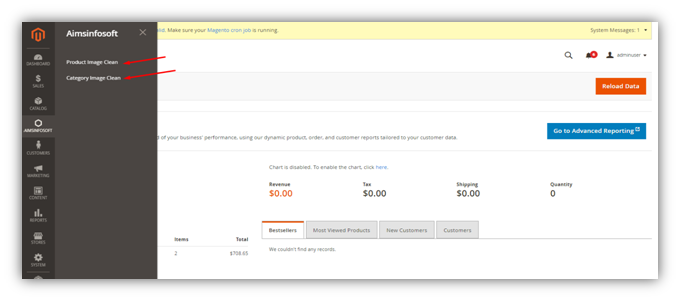 Step3 :
Click On Fetch Unused Images Button To Get All The Unused Images That Are Consuming Space On Your Website And On Database.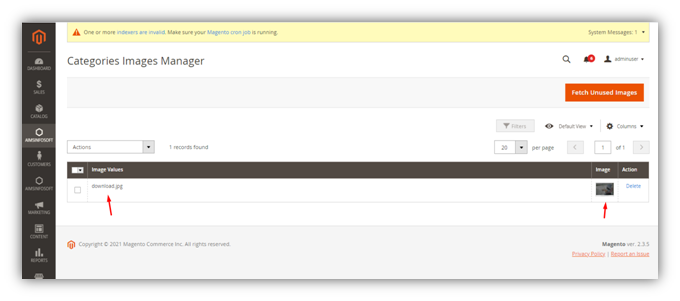 Step4 :
Final Step Is Just You Need To Delete Image That You Don't Want To Keep Anymore. You Will Also Have Option Of Bulk Delete To Delete Multiple Images On One Click.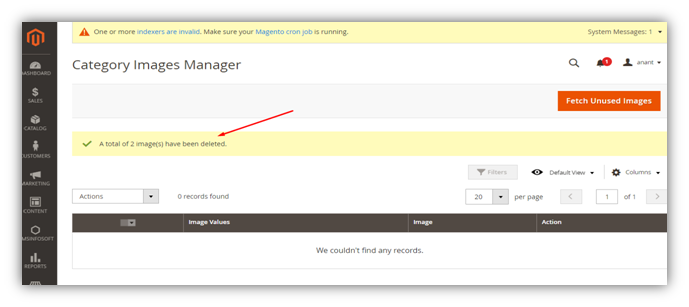 Final Words:
Magento 2 Image Clean Module Allows You This Module Will Helps You To Remove Unused Image That Are Consuming Space On Your Webstore And It Can Optimize You Website. You Can Place Suitable Image On Selected Place On Your Image . This Will Help You To Gain An Well Organized E-Commerce Website
Visit To Know More:
Https://Store.Aimsinfosoft.Com/Aimsinfosoft-Image-Clean-Module-Magento-2.Html